Our client, from the entertainment industry, is experiencing strong growth following a number of mergers and acquisitions. They are today one of the main global players in the industry. Facing strong competition they have realised they need to become more innovative and empower their various business units and employees if they want to sustain their growth trajectory. At the same time, they need to move from a technical organisation to a customer-centric business to respond to market changing needs.
It was decided to conduct a culture assessment to establish how large the gap was between current and future states and to identify potential levers for effective transformation.
The assessment process
We used a combination of qualitative and quantitative analysis. The quantitative analysis came from Walking the Talk's culture survey (CCI: Culture Capability Index). The qualitative analysis was done using our focus group methodology called "Discover".
The CCI survey was administered to 3,000 staff and closed after two weeks, with a response rate of 57%. Six focus groups were conducted, involving 62 people. This number was needed for the results to be valid from a statistical point of view. Focus groups were asked a small number of trigger questions and conversations were recorded. Our methodology is based on the premise that what the group chooses to talk about reflects what employees value / what is top of mind. Discussions were recorded and transcribed and taken through a grid of analysis using a technique called IPA (Interpretative Phenomenological Analysis). Five weeks were needed from the first focus group to the final analysis of results.
Findings
The graph below is an overall representation of the current and target cultures per archetype (Survey data. The current culture is represented in orange.) What we found was that:
Current customer centricity is not high compared to target.
There is a gap in innovation.
There is a very strong focus on results and high achievement / accountability.
Healthy focus on employees (people First).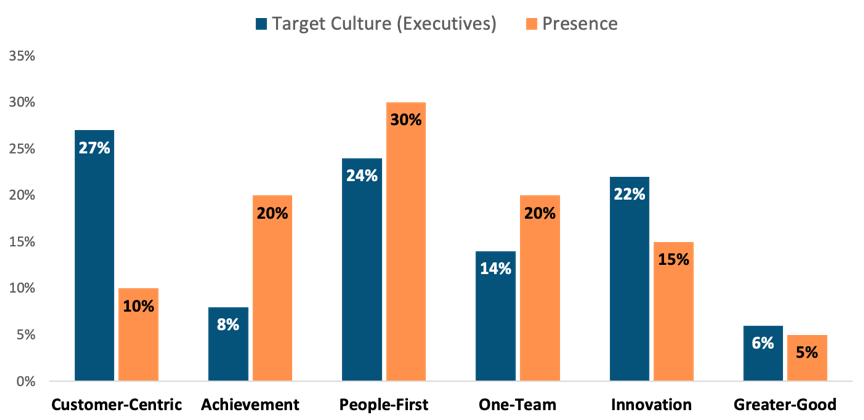 However, by bringing in the results from the focus groups, it appears that even if the people focus is strong, empowerment is low, and in particular courage and speaking up. Because of a strong pressure on results and on-time delivery of products, people do not speak up when they see something that may affect the quality of products: this would slow down the process and they fear the consequences. This directly impacts quality and customer satisfaction. The lynchpin beliefs that were identified are, "Deadlines are all that matters", and "Just do your job", underpinned by a fear of speaking up. These are potential blockages for shifting the culture. On the bright side, there is a strong can-do attitude with a strong belief that "people matter - I matter".
The graph below depicts People-first behaviours in the organisation: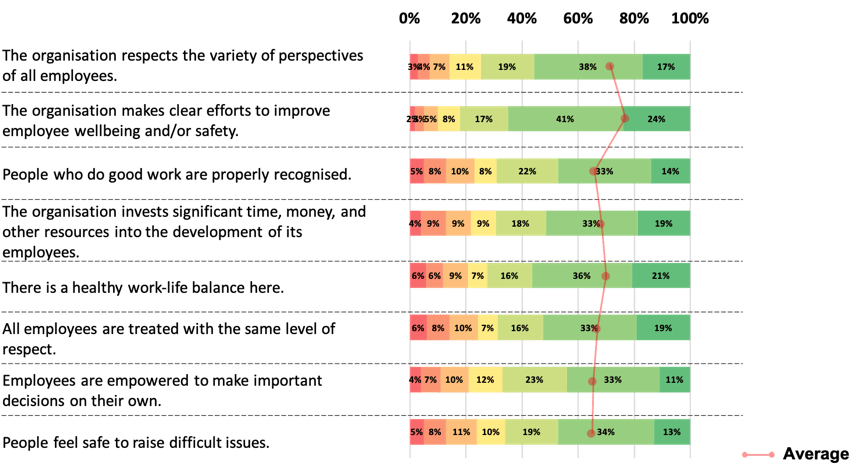 Next steps
We facilitated the development of a culture plan globally to realign systems and symbols and define work required for shifting behaviours. The culture planning team spent time identifying what the culture focus for the next twelve months needed to be. Empowerment and Customer-centricity were identified and a number of detailed behaviours developed. These behaviours are central to work currently done with the senior leadership. The idea is to help them become role models of the target culture. An engagement activation campaign is supporting the whole approach.
Walking the Talk Executive Director, Amanda Fajak, will be answering your questions and discussing how a culture assessment can help you understand your organisation's current culture and discover why employees behave the way they do. This data is critical to accelerate the transformation of your business.