Are you looking to shift your company values and be more giving?
Here are 8 of Walking the Talk's recommended books on innovation.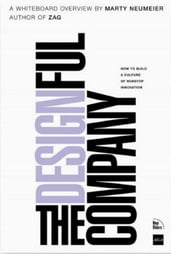 The Designful Company: How to build a culture of nonstop innovation | Marty Neumeier
"The complex business problems we face today can't be solved with the same thinking that created them," says author Marty Neumeier in this entertaining and original read. Instead, he says, we need to start from a place outside traditional business thinking. In an era of fast-moving markets and leap-frogging innovations, we can no longer "decide" the way forward. Today we have to "design" the way forward—or risk ending up in the fossil layers of business history.

This is the third in the author's bestselling series of "whiteboard overviews." In his first, THE BRAND GAP, he addressed the gulf between business strategy and customer experience. In his second, ZAG, he explored the number-one strategy of high-performance brands. In the third, THE DESIGNFUL COMPANY, he shows how design thinking can build a culture of nonstop innovation. "If you wanna innovate," he says, "you gotta design."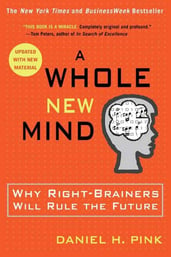 A Whole New Mind: Why Right-Brainers Will Rule the Future | Daniel Pink
"The future belongs to a different kind of person with a different kind of mind: artists, inventors, storytellers-creative and holistic "right-brain" thinkers whose abilities mark the fault line between who gets ahead and who doesn't.

Drawing on research from around the world, Pink (author of To Sell Is Human: The Surprising Truth About Motivating Others) outlines the six fundamentally human abilities that are absolute essentials for professional success and personal fulfillment--and reveals how to master them. A Whole New Mind takes readers to a daring new place, and a provocative and necessary new way of thinking about a future that's already here.".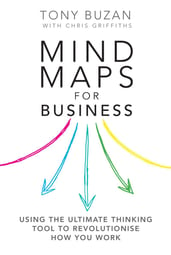 Mind Maps for Business | Tony Buzan & Chris Griffiths
"Tony Buzan knows more than a little about Mind Maps – after all, he did invent them!
Often referred to as the 'the Swiss-army knife for the brain', Mind Maps are a ground-breaking, note-taking and mind-organising technique that has already revolutionised the lives of many millions of people around the world and taken the educational world by storm.
Now Tony Buzan is sharing the powerful techniques of mind mapping with the business world to help business professionals everywhere revolutionise the way they think and practise.
Mind Maps for Business is the very first and only book on mind mapping that has been written by Tony Buzan specifically for a business audience.
No matter how big or small the business you work in; no matter if you're an employer or an employee; no matter what your role is, you'll find the benefits of using mind maps to help you think, organise, plan and control are vast:
Accelerate your productivity to levels you never thought possible.
Generate exciting new possibilities for growth and expansion.
Make meetings, discussions and forums really productive and useful.
Negotiate, talk and consult more constructively and effectively.
Be more focussed, more organised and much smarter.
Unleash your amazing creative capabilities.
Whether you're writing marketing plans or strategy documents; looking for new ways to develop your business; planning a conference or event; restructuring your staff; or looking to improve your management and leadership skills – discover today the amazing advantages that using Mind Maps for Business can bring."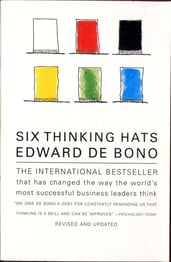 Six Thinking Hats | Edward de Bono
"Used successfully by thousands of business managers, educators, and government leaders around the world, Six Thinking Hats offers a practical and uniquely positive approach to making decisions and exploring new ideas.
Your success in business depends on how you think. "The main difficulty of thinking is confusion," writes Edward de Bono, long recognized as the foremost international authority on conceptual thinking and on the teaching of thinking as a skill. "We try to do too much at once. Emotions, information, logic, hope, and creativity all crowd in on us. It is like juggling with too many balls." The solution? De Bono unscrambles the thinking process with his "six thinking hats":

WHITE HAT: neutral and objective, concerned with facts and figures
RED HAT: the emotional view
BLACK HAT: careful and cautious, the "devil's advocate" hat
YELLOW HAT: sunny and positive
GREEN HAT: associated with fertile growth, creativity, and new ideas
BLUE HAT: cool, the color of the sky, above everything else-the organizing hat
Through case studies and real-life examples, Dr. de Bono reveals the often surprising ways in which deliberate role playing can make you a better thinker. He offers a powerfully simple tool that you--and your business, whether it's a start-up or a major corporation--can use to create a climate of clearer thinking, improved communication, and greater creativity. His book is an instructive and inspiring text for anyone who makes decisions, in business or in life."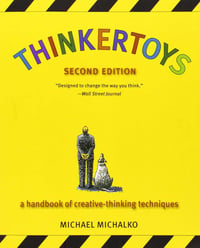 Thinkertoys: A Handbook of Creative Thinking Techniques | Michael Michalko
"In hindsight, every great idea seems obvious. But how can you be the person who comes up with those ideas?
In this revised and expanded edition of his groundbreaking Thinkertoys, creativity expert Michael Michalko reveals life-changing tools that will help you think like a genius. From the linear to the intuitive, this comprehensive handbook details ingenious creative-thinking techniques for approaching problems in unconventional ways. Through fun and thought-provoking exercises, you'll learn how to create original ideas that will improve your personal life and your business life. Michalko's techniques show you how to look at the same information as everyone else and see something different.

With hundreds of hints, tricks, tips, tales, and puzzles, Thinkertoys will open your mind to a world of innovative solutions to everyday and not-so-everyday problems."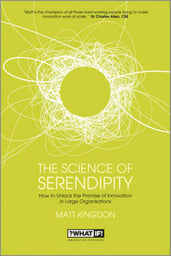 The Science of Serendipity: How to Unlock the Promise of Innovation | Matt Kingdon
"Innovation. The word might make you think of Silicon Valley. But innovation isn't the sole province of start-ups. They didn't invent it, and they're not always the ones from which we can best learn.
As Matt Kingdon argues in The Science of Serendipity, it's corporate innovators battling within large, established organisations who are the field's real heroes. Tapping into 20 years of experience on the front lines of innovation—bringing new products and services to market and helping organisations become more creative—Kingdon dissects the ways in which corporations are continually reborn. He looks at the anatomy of innovation, asking: How do time-pressed executives go about taking risks? How do they prepare to see—and seize—opportunity? And how do you place humans, with all of their fears and foibles, at the heart of commercial success?
In a conversational, jargon-free style built on a practitioner's observations and anecdotes, The Science of Serendipity traces the dilemmas that executives in a wide variety of firms face. It details the steps taken to overcome the issues and get great ideas across the finish line. If you're looking for a guide in your fight against the corporate machine, this is the business book for you.
Matt Kingdon is the Co-founder, Chairman, and Chief Enthusiast of What If! Innovation Partners. For 20 years, What If! has partnered with the world's most successful, forward-looking companies—businesses such as Barclays, Four Seasons, Google, PepsiCo, Pfizer, and Virgin—to galvanise innovation and deliver impact. Its 250 inventors work across the Americas, Europe, and Asia."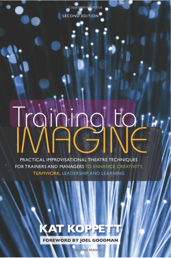 Training to Imagine | Kat Koplett & Joel Goodman
"Creating innovative products and game-changing processes, and adapting to new cultures and communication styles, have all become imperative for business survival. Today's business leaders, from Fortune 500 companies on down, have discovered the value of improvisational theatre techniques to develop creativity and collaboration skills they need.

Since publication of its seminal first edition, the principles and techniques pioneered in Training to Imagine have been widely adopted by organizations around the world, and have given rise to the field of Applied Improvisation. This new edition builds on the characteristics that made it the most comprehensive and most easy-to-apply resource for using improv in organizations. As before, this book translates the theories and exercises of improv into language that is familiar to business culture, and provides guidelines, case studies and exercises intended for use by individuals for self-development, for small groups, and for facilitation by corporate trainers.

This revised edition places more emphasis on the development of leadership, in particular adding activities designed for individuals to develop skills on their own, or outside formal training environments. It builds upon what has been learned since 2001, presenting examples of practice, and research on the methods, that have proven to be most effective in the workplace. Kat Koppett has added a whole new section on instructional design to help users make informed choices in selecting activities to best support their objectives and corporate context, as well as numerous new exercises.

This is a vital resource for trainers, executives, and leaders at all levels who want to increase their personal communication and creativity skills, and in inspire and motivate their teams.

The enhanced e-book edition will incorporate video of sample activities and exercises, as well as interviews with leading Applied Improv practitioners. This material will also be available free on the Stylus Web site."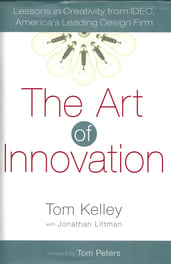 The Art of Innovation | Tom Kelley
"IDEO, the widely admired, award-winning design and development firm that brought the world the Apple mouse, Polaroid's I-Zone instant camera, the Palm V, and hundreds of other cutting-edge products and services, reveals its secrets for fostering a culture and process of continuous innovation.

There isn't a business in America that doesn't want to be more creative in its thinking, products, and processes. At many companies, being first with a concept and first to market are critical just to survive. In The Art of Innovation, Tom Kelley, general manager of the Silicon Valley based design firm IDEO, takes readers behind the scenes of this wildly imaginative and energized company to reveal the strategies and secrets it uses to turn out hit after hit.

IDEO doesn't buy into the myth of the lone genius working away in isolation, waiting for great ideas to strike. Kelley believes everyone can be creative, and the goal at his firm is to tap into that wellspring of creativity in order to make innovation a way of life. How does it do that? IDEO fosters an atmosphere conducive to freely expressing ideas, breaking the rules, and freeing people to design their own work environments. IDEO's focus on teamwork generates countless breakthroughs, fueled by the constant give-and-take among people ready to share ideas and reap the benefits of the group process. IDEO has created an intense, quick-turnaround, brainstorm-and-build process dubbed "the Deep Dive."

In entertaining anecdotes, Kelley illustrates some of his firm's own successes (and joyful failures), as well as pioneering efforts at other leading companies. The book reveals how teams research and immerse themselves in every possible aspect of a new product or service, examining it from the perspective of clients, consumers, and other critical audiences.

Kelley takes the reader through the IDEO problem-solving method:

> Carefully observing the behavior or "anthropology" of the people who will be using a product or service

> Brainstorming with high-energy sessions focused on tangible results

> Quickly prototyping ideas and designs at every step of the way

> Cross-pollinating to find solutions from other fields

> Taking risks, and failing your way to success

> Building a "Greenhouse" for innovation

IDEO has won more awards in the last ten years than any other firm of its kind, and a full half-hour Nightline presentation of its creative process received one of the show's highest ratings. The Art of Innovation will provide business leaders with the insights and tools they need to make their companies the leading-edge, top-rated stars of their industries."
For more case studies, ebooks, reports and white papers visit the
Walking the Talk resources page here
or
contact us to learn how we can transform your culture.