Thinking about the future? Looking for a new mindset? Want to adopt a new approach? Want to solve problems better?
Here are 7 of Walking the Talk's recommended future thinking reads.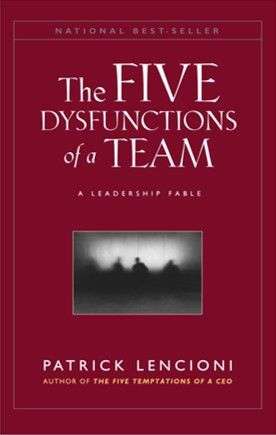 5 Dysfunctions of a Team (2nd dysfunction) | Patrick Lencioni
"In The Five Dysfunctions of a Team Patrick Lencioni once again offers a leadership fable that is as enthralling and instructive as his first two best-selling books, The Five Temptations of a CEO and The Four Obsessions of an Extraordinary Executive. This time, he turns his keen intellect and storytelling power to the fascinating, complex world of teams.

Kathryn Petersen, Decision Tech's CEO, faces the ultimate leadership crisis: Uniting a team in such disarray that it threatens to bring down the entire company. Will she succeed? Will she be fired? Will the company fail? Lencioni's utterly gripping tale serves as a timeless reminder that leadership requires as much courage as it does insight.

Throughout the story, Lencioni reveals the five dysfunctions which go to the very heart of why teams even the best ones-often struggle. He outlines a powerful model and actionable steps that can be used to overcome these common hurdles and build a cohesive, effective team. Just as with his other books, Lencioni has written a compelling fable with a powerful yet deceptively simple message for all those who strive to be exceptional team leaders."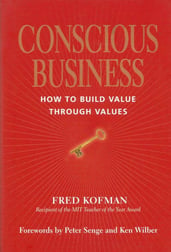 Conscious Business (chap. 6) | Fred Kofman
"Consciousness is the ability to experience reality, to be aware of our inner and outer worlds. It allows us to adapt to our environment and act to promote our lives. All living beings possess consciousness, but human beings have a unique kind. Unlike plants and other animals, we can think and act beyond instinctual drives and conditioning. We can be autonomous (from the Greek, "self-governing"). While this autonomy is a possibility, it is not a given. We must develop it through conscious choices.
To be conscious means to be awake, mindful. To live consciously means to be open to perceiving the world around us, to understand our circumstances, and to decide how to respond to them in ways that honor our needs, values, and goals. To be unconscious is to be asleep, mindless. To live unconsciously means to be driven by instincts and habitual patterns.
Have you ever driven down the highway on cruise control, engaged in a conversation or daydreaming, only to realize you missed your exit? You didn't literally lose consciousness, but you dimmed your awareness. Relevant details, such as your location and the actions needed to reach your goal, receded from the forefront of your mind. Your eyes were open, but you didn't see. This is a poor way to drive—and an even poorer way to live. "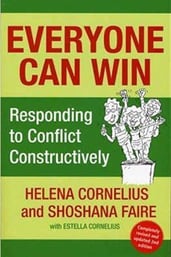 Everyone can win | Helena Cornelius & Shoshana Faire
"Good conflict resolution skills distinguish an average communication from a superb one; they turn a mediocre relationship into magic. This book identifies the skills you need for resolving conflict constructively. It offers techniques for transforming conflict into an opportunity for positive change. Your negotiation style will improve, giving better outcomes for everyone involved. Although your strategy will vary according to the dispute, these fundamental principles of conflict resolution apply to all areas of conflict in your life.

'Everyone Can Win: responding to conflict constructively' is the completely revised second edition by Helena Cornelius and Shoshana Faire of their classic book on conflict resolution. This digital version has been further updated. It is published by Conflict Resolution Network and supports the training programs and resources available on their website.

With its friendly and uplifting advice, stories, exercises and proven techniques, this book teaches collaborative and compassionate problem-solving, even when relationships are stretched to their limit. Learn how to respond rather than react, to handle difficult people, to respect clashes of values and recognize the pitfalls and solutions to power issues."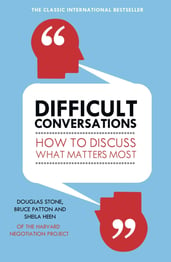 Difficult Conversations: How to Discuss what Matters Most | Douglas Stone et al
"We've all been there: We know we must talk to a colleague, our boss or event a friend about something we know will be at least uncomfortable and at worst explosive. So we repeatedly mull it over until we can no longer put it off, and then finally stumble through a confrontation when we could have had a conversation.
Difficult Conversations is the definitive work on handling these unpleasant exchanges, based on 15 years of research at the Harvard Negotiation Project. It teaches us to work through them by understand that we're not engaging in one dialogue but three: the "what happened" conversation (what do we believe was said and done), the "feelings" conversation (the emotional impact on everyone involved), and the "identity" conversation (what does this mean for everyone's opinion of themselves).
In a world where asking for a pay rise, saying 'no' to your boss, asking a favour or apologizing for a mistake can be a horrendous nightmare, Difficult Conversations deserves its position as a business classic."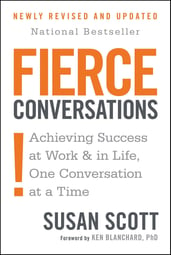 Fierce Conversations: Achieving Success... One Conversation at a time | Susan Scott
"Fully revised and updated—the national bestselling guide that will help you achieve personal and professional success one conversation at a time.

The master teacher of positive change through powerful communication, Susan Scott wants you to succeed. To do that, she explains, you must transform everyday conversations at work and at home with effective ways to get your message across—and get what you want. In this guide, which includes a workbook and The Seven Principles of Fierce Conversations, Scott teaches you how to:

• Overcome barriers to meaningful communication
• Expand and enrich relationships with colleagues, friends, and family
• Increase clarity and improve understanding
• Handle strong emotions—on both sides of the table
• Connect with colleagues, customers and family at a deep level."
"THE ART OF WAR (Chinese: 孫子兵法; pinyin: Sūnzĭ bīngfǎ) is an ancient Chinese military treatise attributed to Sun Tzu, a high-ranking military general, strategist and tactician, and kindred to the Realpolitik of his time, termed in China as Legalism. The text is composed of 13 chapters, each of which is devoted to one aspect of warfare. It is commonly thought of as a definitive work on military strategy and tactics. It has been the most famous and influential of China's Seven Military Classics, and "for the last two thousand years it remained the most important military treatise in Asia, where even the common people knew it by name." It has had an influence on Eastern and Western military thinking, business tactics, legal strategy and beyond.

Beyond its military and intelligence applications from earliest days to the present time, THE ART OF WAR has been applied to many fields well outside of the military. Much of the text is about how to fight wars without actually having to do battle: it gives tips on how to outsmart one's opponent so that physical battle is not necessary. As such, it has found application as a training guide for many competitive endeavors that do not involve actual combat. There are business books applying its lessons to office politics and corporate strategy. Many companies make the book required reading for their key executives. The book is also popular among Western business management, who have turned to it for inspiration and advice on how to succeed in competitive business situations. It has also been applied to the field of education. The Art of War has been the subject of law books and legal articles on the trial process, including negotiation tactics and trial strategy."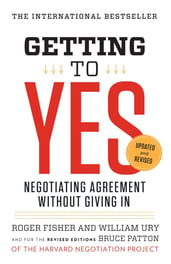 Getting to Yes: Negotiating Agreement Without Giving In | William Ury
"The key text on problem-solving negotiation-updated and revised

Since its original publication nearly thirty years ago, Getting to Yes has helped millions of people learn a better way to negotiate. One of the primary business texts of the modern era, it is based on the work of the Harvard Negotiation Project, a group that deals with all levels of negotiation and conflict resolution.

Getting to Yes offers a proven, step-by-step strategy for coming to mutually acceptable agreements in every sort of conflict. Thoroughly updated and revised, it offers readers a straight- forward, universally applicable method for negotiating personal and professional disputes without getting angry-or getting taken."
Read more culture insights here.
For more case studies, ebooks, reports and white papers visit the Walking the Talk resources page here or contact us to learn how we can transform your culture.