Here are 7 of Walking the Talk's recommended reads for inspiring focus.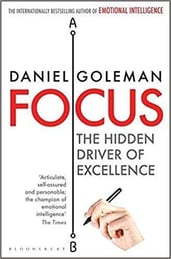 Focus: The Hidden Driver of Excellence | Daniel Goleman
"For more than two decades, psychologist and journalist Daniel Goleman has been scouting the leading edge of the human sciences for what's new, surprising, and important. In Focus, he delves into the science of attention in all its varieties, presenting a long overdue discussion of this little-noticed and under-rated mental asset that matters enormously for how we navigate life. Goleman boils down attention research into a three parts: inner, other, and outer focus. Goleman shows why high-achievers need all three kinds of focus, as demonstrated by rich case studies from fields as diverse as competitive sports, education, the arts, and business. Those who excel rely on what Goleman calls Smart Practices such as mindfulness meditation, focused preparation and recovery, positive emotions and connections, and mental 'prosthetics' that help them improve habits, add new skills, and sustain excellence. Combining cutting-edge research with practical findings, Focus reveals what distinguishes experts from amateurs and stars from average performers. "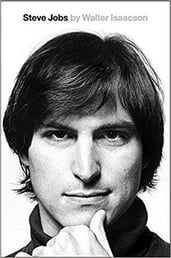 "Based on more than forty interviews with Steve Jobs conducted over two years - as well as interviews with more than a hundred family members, friends, adversaries, competitors, and colleagues - this is the acclaimed, internationally bestselling biography of the ultimate icon of inventiveness. Walter Isaacson tells the story of the rollercoaster life and searingly intense personality of creative entrepreneur whose passion for perfection and ferocious drive revolutionized six industries: personal computers, animated movies,music, phones, tablet computing, and digital publishing. Although Jobs cooperated with this book, he asked for no control over what was written, nor even the right to read it before it was published. He put nothing off limits. He encouraged the people he knew to speak honestly. And Jobs speaks candidly, sometimes brutally so, about the people he worked with and competed against. His friends, foes, and colleagues provide an unvarnished view of the passions, perfectionism, obsessions, artistry, devilry, and compulsion for control that shaped his approach to business and the innovative products that resulted."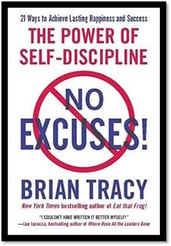 No Excuses: The Power of Self-Discipline | Brian Tracy
"Most people think success comes from good luck or enormous talent, but many successful people achieve their accomplishments in a simpler way: through self-discipline. No Excuses! shows you how you can achieve success in all three major areas of your life, including your personal goals, business and money goals, and overall happiness. Each of the 21 chapters in this book shows you how to be more disciplined in one aspect of your life, with end-of-chapter exercises to help you apply the "no excuses" approach to your own life. With these guidelines, you can learn how to be more successful in everything you do- instead of wistfully envying others you think are just "luckier" than you. A little self-discipline goes a long way, so stop making excuses and read this book!"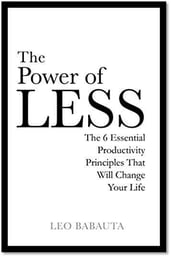 The Power of Less | Leo Babauata
"With the arrival of the 21st century we have encountered a mental and material explosion in the Western world: we have near-unlimited information at our fingertips, we can have children who are healthy and safe, and we have wealth and possessions beyond what most of the world can dream of.
However, this is not a boast. We are more stressed than we have ever been: the majority of us are profoundly unhappy. Despite the potential of prosperity, our fears are undiminished: we are stuck with cars and computers and houses and mobiles and hundreds of other tiny apparent "needs" that, when all combined, build to something unsustainable. Though we are surrounded by what we want, our desire to keep and still get more creates a pressure that we cannot tolerate.
But we do not need to "keep up with the Joneses". The flip side of our society's growth is that we can choose what to accept, and what not to accept: what to keep, and what to lose, joyfully and consciously. With this handbook of simplicity, Leo Babauta shows us: why less is powerful how to know what you want, and what you need how to choose what is essential, and clear out the rest
With The Power of Less, you will be able to start a complete shift from wanting everything to needing nothing, be able to live your life simply without compromise, and discover that though we cannot have everything we want, we can obtain anything we will ever need. With this book, you will find how to go through life not carefully, but care-freely.."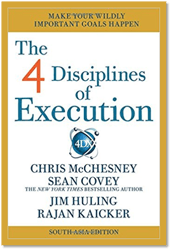 The 4 Disciplines of Execution | Rajan Kaicker Sean Covey
"Executing strategic goals is the greatest challenge in business today. Aligning the organization's work teams with your most important objectives is a never-ending battle. In addition, keeping teams engaged and focused on the top goals is critical. Imagine an organization where every team—from senior leadership to the front line—is focused on the most important priorities and committed to achieving the Wildly Important Goals. Franklin Covey has studied the topic of execution for several years in thousands of teams and in hundreds of organizations. Our research shows that execution breaks down in four ways:
1. People and teams don't know the goals. Either there are too many goals or the goals aren't clear.
2. People and teams don't know what to do to achieve the goals. The goals are not translated into day-to-day activities.
3. People and teams don't keep score. Few can tell at any moment if they are on track to achieve the organization's critical goals.
4. People and teams are not held accountable. For results, employees need relevant and timely feedback and regular accountability.
The 4 Disciplines of Execution will help you eliminate these breakdowns."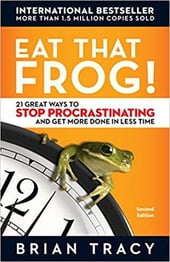 Eat That Frog!: 21 Great Ways to Stop Procrastinating and Get More Done in Less Time |Brian Tracy
"The legendary Eat That Frog! (more than 1.5 million copies sold worldwide and translated into 42 languages) will change your life. There just isn't enough time for everything on our "To Do" list—and there never will be. Successful people don't try to do everything. They learn to focus on the most important tasks and make sure they get done.
There's an old saying that if the first thing you do each morning is to eat a live frog, you'll have the satisfaction of knowing that it's probably the worst thing you'll do all day. Using "eat that frog" as a metaphor for tackling the most challenging task of your day—the one you are most likely to procrastinate on, but also probably the one that can have the greatest positive impact on your life—Eat That Frog!shows you how to zero in on these critical tasks and organize your day. You'll not only get more done faster, but get the right things done.
Bestselling author Brian Tracy cuts to the core of what is vital to effective time management: decision, discipline, and determination. In this fully revised and updated second edition, he provides brand new information on how to keep technology from dominating your time. He details twenty-one practical and doable steps that will help you stop procrastinating and get more of the important tasks done—today!"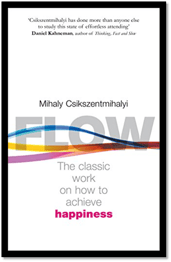 Flow: The Psychology of Happiness | Mihaly Csikszentmihalyi
"For more than two decades Mihaly Csikszentmihalyi studied those states in which people report feelings of concentration and deep enjoyment. His studies revealed that what makes experience genuinely satisfying is 'flow' - a state of concentration so focused that it amounts to complete absorption in an activity and results in the achievement of a perfect state of happiness. Flow has become the classic work on happiness and a major contribution to contemporary psychology. It examines such timeless issues as the challenge of lifelong learning; family relationships; art, sport and sex as 'flow'; the pain of loneliness; optimal use of free time; and how to make our lives meaningful. "