Thinking about the future? Looking for a new mindset? Want to adopt a new approach? Want to solve problems better?
Here are 7 of Walking the Talk's recommended future thinking reads.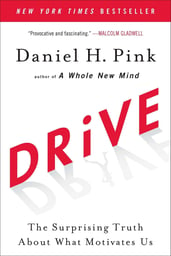 Drive: The Surprising Truth About What Motivates Us | Daniel Pink
"Most people believe that the best way to motivate is with rewards like money—the carrot-and-stick approach. That's a mistake, says Daniel H. Pink (author of To Sell Is Human: The Surprising Truth About Motivating Others). In this provocative and persuasive new book, he asserts that the secret to high performance and satisfaction-at work, at school, and at home—is the deeply human need to direct our own lives, to learn and create new things, and to do better by ourselves and our world.

Drawing on four decades of scientific research on human motivation, Pink exposes the mismatch between what science knows and what business does—and how that affects every aspect of life. He examines the three elements of true motivation—autonomy, mastery, and purpose-and offers smart and surprising techniques for putting these into action in a unique book that will change how we think and transform how we live."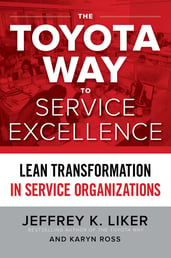 The Toyota Way To Continuous Improvement | Jeffrey Liker & James Franz
"Building upon the international bestselling Toyota Way series of books by Jeffrey Liker, The Toyota Way to Continuous Improvement looks critically at lean deployments and identifies the root causes of why most of them fail. The book is organized into three major sections outlining:
Why it is critical to go beyond implementing lean tools and, instead, build a culture of continuous improvement that connects operational excellence to business strategy
Case studies from seven unique industries written from the perspective of the sensei (teacher) who led the lean transformation
Lessons about transforming your own vision of an ideal organization into reality
Section One: Using the Plan-Do-Check-Adjust (PDCA) methodology, Liker and Franz contrast true PDCA thinking to that of the popular, superficial approach of copying "lean solutions." They describe the importance of developing people and show how the Toyota Way principles support and drive continuous improvement. Explaining how lean systems and processes start with a purpose that provides a true north direction for all activities, they wrap up this section by examining the glaring differences between building a system of people, processes, and problem- solving that is truly lean versus that of simply trying to "lean out" a process.
Section Two: This section brings together seven case studies as told by the sensei who led the transformation efforts. The companies range from traditional manufacturers, overhaul and maintenance of submarines, nuclear fuel rod production, health care providers, pathology labs, and product development. Each of these industries is different but the approaches used were remarkably similar.
Section Three: Beginning with a composite story describing a company in its early days of lean implementation, this section describes what went right and wrong during the initial implementation efforts. The authors bring to light some of the difficulties the sensei faces, such as bureaucracies, closed-minded mechanical thinking, and the challenges of developing lean coaches who can facilitate real change. They address the question: Which is better, slow and deep organic deployment or fast and broad mechanistic deployment? The answer may surprise you. The book ends with a discussion on how to make continuous improvement a way of life at your company and the role of leadership in any lean transformation.
The Toyota Way to Continuous Improvement is required reading for anyone seeking to transcend his or her tools-based approach and truly embrace a culture of continuous improvement."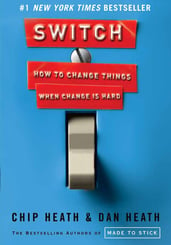 Switch: How to Change things when Change is Hard | Chip & Dan Heath
"Why is it so hard to make lasting changes in our companies, in our communities, and in our own lives?

The primary obstacle is a conflict that's built into our brains, say Chip and Dan Heath, authors of the critically acclaimed bestseller Made to Stick. Psychologists have discovered that our minds are ruled by two different systems—the rational mind and the emotional mind—that compete for control. The rational mind wants a great beach body; the emotional mind wants that Oreo cookie. The rational mind wants to change something at work; the emotional mind loves the comfort of the existing routine. This tension can doom a change effort—but if it is overcome, change can come quickly.

In Switch, the Heaths show how everyday people—employees and managers, parents and nurses—have united both minds and, as a result, achieved dramatic results:
● The lowly medical interns who managed to defeat an entrenched, decades-old medical practice that was endangering patients.
● The home-organizing guru who developed a simple technique for overcoming the dread of housekeeping.
● The manager who transformed a lackadaisical customer-support team into service zealots by removing a standard tool of customer service

In a compelling, story-driven narrative, the Heaths bring together decades of counterintuitive research in psychology, sociology, and other fields to shed new light on how we can effect transformative change. Switch shows that successful changes follow a pattern, a pattern you can use to make the changes that matter to you, whether your interest is in changing the world or changing your waistline."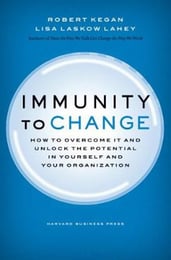 Immunity to Change: How to Overcome It and Unlock the Potential in Yourself and Your Organization | Robert Kegan & Lisa Lahey
"A recent study showed that when doctors tell heart patients they will die if they don't change their habits, only one in seven will be able to follow through successfully. Desire and motivation aren't enough: even when it's literally a matter of life or death, the ability to change remains maddeningly elusive.

Given that the status quo is so potent, how can we change ourselves and our organizations?

In Immunity to Change, authors Robert Kegan and Lisa Lahey show how our individual beliefs--along with the collective mind-sets in our organizations--combine to create a natural but powerful immunity to change. By revealing how this mechanism holds us back, Kegan and Lahey give us the keys to unlock our potential and finally move forward. And by pinpointing and uprooting our own immunities to change, we can bring our organizations forward with us.

This persuasive and practical book, filled with hands-on diagnostics and compelling case studies, delivers the tools you need to overcome the forces of inertia and transform your life and your work."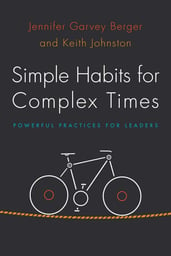 Simple Habits for Complex Times: Powerful Practices for Leaders | Jennifer Garvey Berger & Keith Johnston
"When faced with complex challenges or uncertain outcomes, many leaders believe that if they are smart enough, work hard enough, or turn to the best management tools, they will be able to find the right answer, predict and plan for the future, and break down tasks to produce controllable results. But what are leaders to do when this isn't the case?
Rather than offering one-size-fits-all tips and tricks drawn from the realm of business as usual, Simple Habits for Complex Times provides three integral practices that enable leaders to navigate the unknown. By taking multiple perspectives, asking different questions, and seeing more of their system, leaders can better understand themselves, their roles, and the world around them. They can become more nimble, respond with agility, and guide their organizations to thrive in an ever-shifting business landscape. The more leaders use these simple habits, the more they enhance their performance and solve increasingly common, sticky business issues with greater acumen.
Whether in large or small organizations, in government or the private sector, in the U.S. or overseas, leaders will turn to this book as a companion that helps them grow into the best version of themselves."
Tempered Radicals: How Everyday Leaders Inspire Change at Work | Debra Mayerson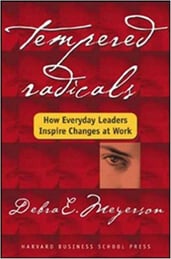 "Very well researched, very readable. Anyone who feels they don't fit in or who manages those who don't fit in will want to take a look." - "Inc. Magazine". In this engaging book, Debra E. Meyerson reveals how adaptive, family-friendly, and socially responsible work places are built not by revolutionaries but by those she calls "tempered radicals," a group of people that balance company conformity with individual rebellion. While their differences often put them at odds with the "mainstream" organizational culture, Meyerson argues that these "everyday leaders" act as crucial sources of new ideas, alternative perspectives, and organizational learning and change. Drawing from fifteen years of research and the compelling stories of tempered radicals in a variety of organizations, Meyerson illustrates a spectrum of innovative ways that individuals use to "rock the boat" from inside the corporate ship - and steers a course for powerful, positive change."
"THE ART OF WAR (Chinese: 孫子兵法; pinyin: Sūnzĭ bīngfǎ) is an ancient Chinese military treatise attributed to Sun Tzu, a high-ranking military general, strategist and tactician, and kindred to the Realpolitik of his time, termed in China as Legalism. The text is composed of 13 chapters, each of which is devoted to one aspect of warfare. It is commonly thought of as a definitive work on military strategy and tactics. It has been the most famous and influential of China's Seven Military Classics, and "for the last two thousand years it remained the most important military treatise in Asia, where even the common people knew it by name." It has had an influence on Eastern and Western military thinking, business tactics, legal strategy and beyond.

Beyond its military and intelligence applications from earliest days to the present time, THE ART OF WAR has been applied to many fields well outside of the military. Much of the text is about how to fight wars without actually having to do battle: it gives tips on how to outsmart one's opponent so that physical battle is not necessary. As such, it has found application as a training guide for many competitive endeavors that do not involve actual combat. There are business books applying its lessons to office politics and corporate strategy. Many companies make the book required reading for their key executives. The book is also popular among Western business management, who have turned to it for inspiration and advice on how to succeed in competitive business situations. It has also been applied to the field of education. The Art of War has been the subject of law books and legal articles on the trial process, including negotiation tactics and trial strategy."
For more case studies, ebooks, reports and white papers visit the Walking the Talk resources page here or contact us to learn how we can transform your culture.