An achievement approach can add value to a company by enabling it to differentiate itself from competitors who do not offer the same experience.
Here are 2 of Walking the Talk's recommended commercial achievement reads.
The Goal: A Process of Ongoing Improvement | Eliyahu Goldratt, Jeff Cox & Whitford, David (CON)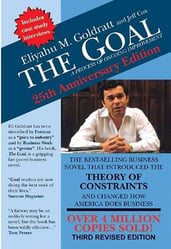 "A Graphic Novel version of this title is now available: "The Goal: A Business Graphic Novel"

30th Anniversary Edition. Written in a fast-paced thriller style, The Goal, a gripping novel, is transforming management thinking throughout the world. It is a book to recommend to your friends in industry - even to your bosses - but not to your competitors. Alex Rogo is a harried plant manager working ever more desperately to try improve performance. His factory is rapidly heading for disaster. So is his marriage. He has ninety days to save his plant - or it will be closed by corporate HQ, with hundreds of job losses. It takes a chance meeting with a professor from student days - Jonah - to help him break out of conventional ways of thinking to see what needs to be done. The story of Alex's fight to save his plant is more than compulsive reading. It contains a serious message for all managers in industry and explains the ideas, which underline the Theory of Constraints (TOC), developed by Eli Goldratt.

One of Eli Goldratt s convictions was that the goal of an individual or an organization should not be defined in absolute terms. A good definition of a goal is one that sets us on a path of ongoing improvement.
Pursuing such a goal necessitates more than one breakthrough. In fact it requires many. To be in a position to identify these breakthroughs we should have a deep understanding of the underlying rules of our environment. Twenty-five years after writing The Goal, Dr. Goldratt wrote Standing on the Shoulders of Giants. In this article he provided the underlying rules of operations. This article appears at the end of this book.

Like Mrs. Fields and her cookies,The Goal was too tasty to remain obscure. Companies began buying big batches and management schools included it in their curriculums. Fortune Magazine

A survey of the reading habits of managers found that though they buy books by the likes of Tom Peters for display purposes, the one management book they have actually read from cover to cover is The Goal. The Economist

"Goal readers are now doing the best work of their lives. Success Magazine

A factory may be an unlikely setting for a novel, but the book has been wildly effective.: Tom Peters."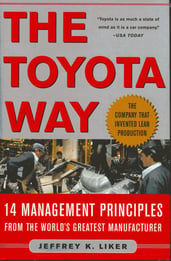 The Toyota Way: 14 Management Principles from the World's Greatest Manufacturer | Jeffrey Liker
"How to speed up business processes, improve quality, and cut costs in any industry
In factories around the world, Toyota consistently makes the highest-quality cars with the fewest defects of any competing manufacturer, while using fewer man-hours, less on-hand inventory, and half the floor space of its competitors. The Toyota Way is the first book for a general audience that explains the management principles and business philosophy behind Toyota's worldwide reputation for quality and reliability.
Complete with profiles of organizations that have successfully adopted Toyota's principles, this book shows managers in every industry how to improve business processes by:
Eliminating wasted time and resources
Building quality into workplace systems
Finding low-cost but reliable alternatives to expensive new technology
Producing in small quantities
Turning every employee into a quality control inspector."
Get the book. . .