Here are 5 of Walking the Talk's books for inspiring holding to account approach.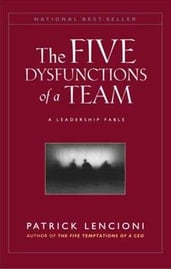 The five Dysfunctions of a Team | Patrick Lencioni
"In The Five Dysfunctions of a Team Patrick Lencioni once again offers a leadership fable that is as enthralling and instructive as his first two best-selling books, The Five Temptations of a CEO and The Four Obsessions of an Extraordinary Executive. This time, he turns his keen intellect and storytelling power to the fascinating, complex world of teams.

Kathryn Petersen, Decision Tech's CEO, faces the ultimate leadership crisis: Uniting a team in such disarray that it threatens to bring down the entire company. Will she succeed? Will she be fired? Will the company fail? Lencioni's utterly gripping tale serves as a timeless reminder that leadership requires as much courage as it does insight.

Throughout the story, Lencioni reveals the five dysfunctions which go to the very heart of why teams even the best ones-often struggle. He outlines a powerful model and actionable steps that can be used to overcome these common hurdles and build a cohesive, effective team. Just as with his other books, Lencioni has written a compelling fable with a powerful yet deceptively simple message for all those who strive to be exceptional team leaders."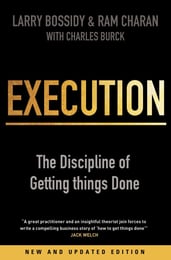 Execution: The Discipline of Getting things Done | Larry Bossidy, Charles Burck and Ram Charan
"When Execution was first published in 2002, it changed the way we did our jobs. By analysing the discipline of getting things done, it helped thousands of business people to make the final leap to success. Now, Larry Bossidy and Ram Charan reframe their empowering message for a world in which the old rules have been shattered and radical change is becoming routine. For the foreseeable future:

- Growth will be slower. But the company that executes well will have the confidence, speed and resources to move fast as new opportunities emerge.

- Competition will be fiercer, with companies searching for any possible advantage in every area.

- Governments will take on new roles in their national economies. And companies that execute well will be more attractive as partners and suppliers, and better prepared to adapt to new waves of regulation.

- Risk management will become a top priority for every leader, and every company will be looking for the edge in detecting new internal and external threats.

Forget formulating a 'vision', then leaving others to carry it out: Execution shows you how to link together people, strategy and operations - the three core elements of every organisation - and create a business based on dialogue, intellectual honesty and realism. With case histories from the real world - including such recent examples such as the diverging paths taken by Jamie Dimon at JPMorgan Chase and Charles Prince at Citigroup - Execution provides the realistic and hard-nosed approach to business success that could only come from authors as accomplished and insightful as Bossidy and Charan."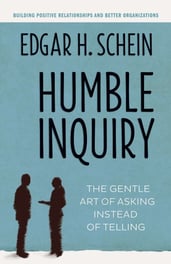 Humble Inquiry: The Gentle Art of Asking Instead of Telling | Edgar Schein
"Communication is essential in a healthy organization. But all too often when we interact with people—especially those who report to us—we simply tell them what we think they need to know. This shuts them down. To generate bold new ideas, to avoid disastrous mistakes, to develop agility and flexibility, we need to practice Humble Inquiry.

Ed Schein defines Humble Inquiry as "the fine art of drawing someone out, of asking questions to which you do not know the answer, of building a relationship based on curiosity and interest in the other person." In this seminal work, Schein contrasts Humble Inquiry with other kinds of inquiry, shows the benefits Humble Inquiry provides in many different settings, and offers advice on overcoming the cultural, organizational, and psychological barriers that keep us from practicing it."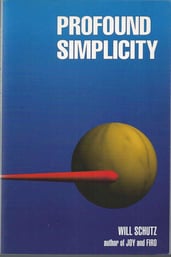 Profound Simplicity | Will Schutz
As Will Schutz explored himself and the human condition- through encounter groups, body methods, energy techniques, and spiritual disciplines-he discovered that each one, if pursued deeply enough, emphasized the same concepts of truth, self-responsibility, and self-awareness. The book weaves these principles into a foundation for a social philosophy.
Background on the philosophy behind The Human Element approach. Weaves The Human Element principles of truth, self-responsibility, and self-awareness into a foundation for a social philosophy."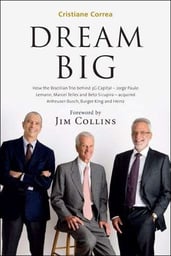 Dream Big: How the Brazilian Trio acquired Anheuser-Busch, Burger King and Heinz | Cristiane Correa
"My friend - and now partner - Jorge Paulo and his team are among the best businessmen in the World. He is a fantastic person and his story should be an inspiration to everybody, as it is for me." - Warren Buffett

In just 40 years this Brazilian trio built the biggest empire in the history of Brazilian capitalism and launched themselves onto the world stage in an unprecedented way.

The management method they developed, which has been zealously followed by their employees, is based on meritocracy, simplicity and constant cost cutting.

Their culture is as efficient as it is merciless and leaves no room for mediocre performance. On the other hand, those who bring in exceptional results have the chance to become company partners and make a fortune.

Dream Big presents a detailed behind-the-scenes portrait of the meteoric rise of these three businessmen, from the founding of Banco Garantia in the 1970s to the present day."