Looking for more effective ways to create one-team? The secret is to have shared commitment orientation!
Here are 3 of Walking the Talk's recommended books to inspire shared commitment orientation.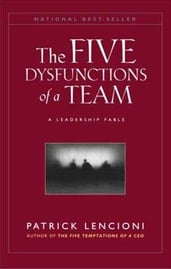 5 Dysfunctions of a Team (3rd dysfunction) | Patrick Lencioni
"In The Five Dysfunctions of a Team Patrick Lencioni once again offers a leadership fable that is as enthralling and instructive as his first two best-selling books, The Five Temptations of a CEO and The Four Obsessions of an Extraordinary Executive. This time, he turns his keen intellect and storytelling power to the fascinating, complex world of teams.

Kathryn Petersen, Decision Tech's CEO, faces the ultimate leadership crisis: Uniting a team in such disarray that it threatens to bring down the entire company. Will she succeed? Will she be fired? Will the company fail? Lencioni's utterly gripping tale serves as a timeless reminder that leadership requires as much courage as it does insight.

Throughout the story, Lencioni reveals the five dysfunctions which go to the very heart of why teams even the best ones-often struggle. He outlines a powerful model and actionable steps that can be used to overcome these common hurdles and build a cohesive, effective team. Just as with his other books, Lencioni has written a compelling fable with a powerful yet deceptively simple message for all those who strive to be exceptional team leaders."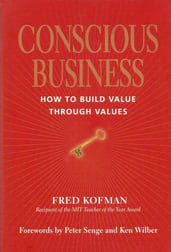 Conscious Business (chap. 7) | Fred Kofman
"We find risks everywhere—from genetically modified crops, medical malpractice, and stem-cell therapy to intimacy, online predators, identity theft, inflation, and robbery. They arise from our own acts and they are imposed on us. In this Very Short Introduction, Baruch Fischhoff and John Kadvany draw on the sciences and humanities to explore and explain the many kinds of risk. Using simple conceptual frameworks from decision theory and behavioural research,
they examine the science and practice of creating measures of risk, showing how scientists address risks by combining historical records, scientific theories, probability, and expert judgment.Risk: A Very Short Introduction describes what has been learned by cognitive scientists about how people deal with
risks, applying these lessons to diverse examples, and demonstrating how understanding risk can aid choices in everyday life and public policies for health, safety, environment, finance, and many other topics.

ABOUT THE SERIES: The Very Short Introductions series from Oxford University Press contains hundreds of titles in almost every subject area. These pocket-sized books are the perfect way to get ahead in a new subject quickly. Our expert authors combine facts, analysis, perspective, new ideas, and enthusiasm to make interesting and challenging topics highly readable."
Get the book. . .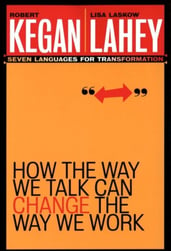 How the Way we Talk can Change the Way we Work (chap. 1-4) | Robert Kegan & Lisa Lahey
"Why is the gap so great between our hopes, our intentions, even our decisions-and what we are actually able to bring about? Even when we are able to make important changes-in our own lives or the groups we lead at work-why are the changes are so frequently short-lived and we are soon back to business as usual? What can we do to transform this troubling reality?
In this intensely practical book, Harvard psychologists Robert Kegan and Lisa Laskow Lahey take us on a carefully guided journey designed to help us answer these very questions. And not just generally, or in the abstract. They help each of us arrive at our own particular answers that can solve the puzzling gap between what we intend and what we are able to accomplish. How the Way We Talk Can Change the Way We Work provides you with the tools to create a powerful new build-it-yourself mental technology."
Are you looking for more inspiration for personal development to achieve success? View other books we highly recommend here.
For more case studies, ebooks, reports and white papers visit the Walking the Talk resources page here or contact us to learn how we can transform your culture.