A customer-centric approach can add value to a company by enabling it to differentiate itself from competitors who do not offer the same experience.
Here are 3 of Walking the Talk's recommended responsiveness to customers reads.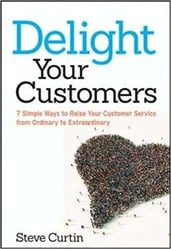 Delight your Customers: 7 Simple Ways to Lift your Customer Service from Ordinary to Extraordinary; | Steve Curtin
"Great customer service is rare. In fact, one survey found that while 80 percent of companies described themselves as delivering superior service, consumers estimated the number at a mere 8 percent. The problem, according to service expert Steve Curtin, is actually quite simple. When asked what their work entails, most employees list the duties and tasks associated with their position. Very few refer to the true essence of their job, which should be their highest priority to create delighted customers who will be less price sensitive, have higher repurchase rates, and enthusiastically recommend the company or brand to others. Without this customer focus, all that exists is a transaction and transactional service does not make a lasting positive impression or inspire loyalty. In Delight Your Customers, Curtin reveals three elements common to all exceptional service experiences. He also makes a compelling case that attention needs to shift from monitoring service activities to modeling, recognizing, and reinforcing the behaviors that actually create happy customers, such as expressing genuine interest, offering sincere compliments, sharing unique knowledge, conveying authentic enthusiasm, providing pleasant surprises, and delivering service heroics when needed. Illustrated with real-world stories and examples, this refreshing guide helps readers everywhere take their customer service from ordinary to extraordinary."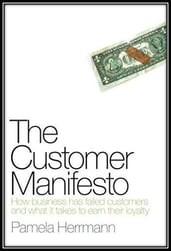 The Customer Manifesto | Pamela Herrmann
"A breakthrough in how businesses connect with their customers to create an exceptional experience, every time. The most interesting thing about the way the Internet is shaping business growth today is being driven by consumer behavior online, and the vast majority of the conversation is how the business made the customer feel. The great divide: 80% of businesses believe they are providing 'superior' customer service, yet only 8% of their customers agree. Breaking through in a sea of sameness begins by returning to old school connectedness with your customers. As a successful entrepreneur, inventor, educator, and consult-ant, I've helped thousands of small business owners grow their profits by identifying the broken links in their work flow, creating an exceptional customer experience, and increasing their traffic. The old adage, "Nothing personal, it's just business," couldn't be farther from the truth in today's economy. Business is personal. Leveraging social proof, both through word of mouth marketing and online, begins when a business has developed lasting loyalty with their customers. Lasting loyalty happens when we feel a strong feeling of support or allegiance to someone. This book summarizes for a general audience results from a query put to customers, "What would a business have to do in order to earn your loyalty?" The Customer Manifesto is the result of that query. By understanding what customers want to feel when they transact with a business, we can quickly adapt the way in which we interact with them with the goal of growing the rela-tionship to the level of evangelist -- someone who will willingly and happily provide the critical social proof through business rat-ings and review websites, and through social networking. This book provides best practices from the highest rated busi-nesses in hospitality and the insights from enterprise level busi-nesses that have invested billions of dollars on customer insights in order to improve the way they do business. We've taken these principles and applied them to The Customer Manifesto so that lo-cal businesses can learn how to create an exceptional customer experience with every transaction. The stories and lessons are presented in the framework of the retail business, but these principles very much apply to the serv-ice based business where customers may be calling you, or an on-line business where you are measuring & monitoring the customer experience through the lens of your website analytics. Technology is an amazing tool for growing sales, but it is a waste of the two most valuable resources a small business has -- that of time and money -- if the customer experience is fair to middling. An exceptional experience is created when we prove to customers that they are valued and appreciated with every action, interaction, reaction & transaction. "
Get the book. . .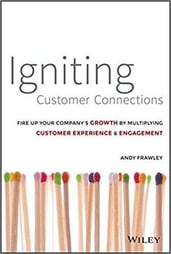 Igniting Customer Connections | Andrew Frawley
"A new data-driven approach to building customer relationships that fuel sustainable business growth.
Igniting Customer Connections explores how organizations of all sizes can build powerful and profitable customer relationships in a today's increasingly complex, fast-paced, and fragmented marketplace. Written by the president of one of the world's largest marketing firms, the book provides expert insights about connecting with customers effectively across all channels and over time. The central premise is a refreshingly different, evidence-based approach called Return On Experience and Engagement, or ROE2, which delivers a new way to inspire and measure customer connections—and improve business results.
The traditional marketing campaign—a battle for attention with a clear launch date and endpoint—no longer works. Marketing is faster and more complex than ever, and consumers now have the power to turn off the message. Igniting Customer Connections explores the benefits of a new approach that enables companies to connect with customers, rather than just talk at them. Topics include: Why classic ROI is losing relevance as a way to measure results—and to budget marketing spend; How to make powerful connections by taking full advantage of "atomic moments of truth"; Amplifying the impact of customer experience and engagement; Creating a continuous, measurable, repeatable process for growth.
The key to winning customers and building long-term business is creating positive customer experiences that inspire ongoing engagement—from Facebook "likes" to purchase decisions. Based on data and stories drawn from dozens of top brands and thousands of consumers, Igniting Customer Connections helps marketers create long-term brand equity and sustainable business growth. "
For more case studies, ebooks, reports and white papers visit the Walking the Talk resources page here or contact us to learn how we can transform your culture.