Looking for more effective ways to create one-team? The secret is to have shared openness!
Here are 3 of Walking the Talk's recommended books to inspire openness.
"Leadership is not about titles, status and power over people. Leaders are people who hold themselves accountable for recognising the potential in people and ideas, and developing that potential. This is a book for everyone who is ready to choose courage over comfort, make a difference and lead.
When we dare to lead, we don't pretend to have the right answers; we stay curious and ask the right questions. We don't see power as finite and hoard it; we know that power becomes infinite when we share it and work to align authority and accountability. We don't avoid difficult conversations and situations; we lean into the vulnerability that's necessary to do good work.
But daring leadership in a culture that's defined by scarcity, fear and uncertainty requires building courage skills, which are uniquely human. The irony is that we're choosing not to invest in developing the hearts and minds of leaders at the same time we're scrambling to figure out what we have to offer that machines can't do better and faster. What can we do better? Empathy, connection and courage to start."
An Everyone culture | Robert Kegan & Lisa Lahey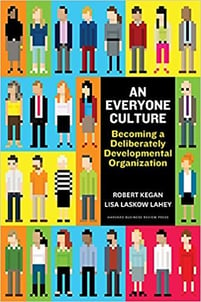 "Robert Kegan and Lisa Lahey (and their collaborators) have found and studied such companies—Deliberately Developmental Organizations. A DDO is organized around the simple but radical conviction that organizations will best prosper when they are more deeply aligned with people's strongest motive, which is to grow. This means going beyond consigning "people development" to high-potential programs, executive coaching, or once-a-year off-sites. It means fashioning an organizational culture in which support of people's development is woven into the daily fabric of working life and the company's regular operations, daily routines, and conversations.

An Everyone Culture dives deep into the worlds of three leading companies that embody this breakthrough approach. It reveals the design principles, concrete practices, and underlying science at the heart of DDOs—from their disciplined approach to giving feedback, to how they use meetings, to the distinctive way that managers and leaders define their roles. The authors then show readers how to build this developmental culture in their own organizations."
Safe Enough to Soar: Accelearating Trust, Inclusion, & Collaboration in the Workplace | Frederick A. Miller & Judith H. Katz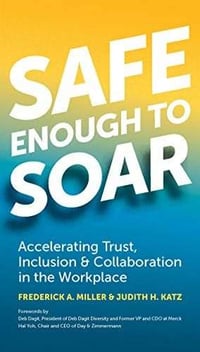 "Some organizations pay a great deal of attention to ensuring the physical safety of their team members, but do the team members feel safe enough to speak up and raise tough concerns? Share bold and still-in-formation ideas? In this book, bestselling authors and inclusion experts Frederick A. Miller and Judith H. Katz introduce the concept of "interaction safety" and demonstrate how it can help create a work environment of trust, inclusion, and collaboration.

Interaction safety encourages reasonable risk-taking and inspires every individual to be brave enough to reach for higher goals and more ambitious possibilities. When interaction safety exists, people know they will not be penalized, ostracized, demoted, made small, discounted, or shunned because of their thoughts, contributions, and conversations. Individuals feel encouraged, empowered, and can achieve more together than they would alone. "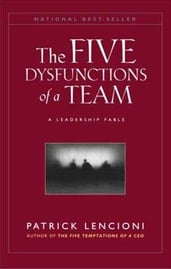 5 Dysfunctions of a Team | Patrick Lencioni
"In The Five Dysfunctions of a Team Patrick Lencioni once again offers a leadership fable that is as enthralling and instructive as his first two best-selling books, The Five Temptations of a CEO and The Four Obsessions of an Extraordinary Executive. This time, he turns his keen intellect and storytelling power to the fascinating, complex world of teams.

Kathryn Petersen, Decision Tech's CEO, faces the ultimate leadership crisis: Uniting a team in such disarray that it threatens to bring down the entire company. Will she succeed? Will she be fired? Will the company fail? Lencioni's utterly gripping tale serves as a timeless reminder that leadership requires as much courage as it does insight.

Throughout the story, Lencioni reveals the five dysfunctions which go to the very heart of why teams even the best ones-often struggle. He outlines a powerful model and actionable steps that can be used to overcome these common hurdles and build a cohesive, effective team. Just as with his other books, Lencioni has written a compelling fable with a powerful yet deceptively simple message for all those who strive to be exceptional team leaders."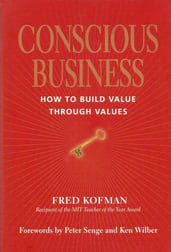 Conscious Business | Fred Kofman
"We find risks everywhere—from genetically modified crops, medical malpractice, and stem-cell therapy to intimacy, online predators, identity theft, inflation, and robbery. They arise from our own acts and they are imposed on us. In this Very Short Introduction, Baruch Fischhoff and John Kadvany draw on the sciences and humanities to explore and explain the many kinds of risk. Using simple conceptual frameworks from decision theory and behavioural research,
they examine the science and practice of creating measures of risk, showing how scientists address risks by combining historical records, scientific theories, probability, and expert judgment.Risk: A Very Short Introduction describes what has been learned by cognitive scientists about how people deal with
risks, applying these lessons to diverse examples, and demonstrating how understanding risk can aid choices in everyday life and public policies for health, safety, environment, finance, and many other topics.

ABOUT THE SERIES: The Very Short Introductions series from Oxford University Press contains hundreds of titles in almost every subject area. These pocket-sized books are the perfect way to get ahead in a new subject quickly. Our expert authors combine facts, analysis, perspective, new ideas, and enthusiasm to make interesting and challenging topics highly readable."
Get the book. . .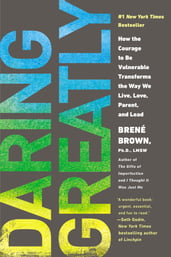 Daring Greatly: How the Courage to be Vulnerable Transforms the Way we Live | Brene Brown
"From thought leader Dr. Brené Brown, a transformative new vision for the way we lead, love, work, parent, and educate that teaches us the power of vulnerability.

"It is not the critic who counts; not the man who points out how the strong man stumbles, or where the doer of deeds could have done them better. The credit belongs to the man who is actually in the arena, whose face is marred by dust and sweat and blood; who strives valiantly; . . . who at the best knows in the end the triumph of high achievement, and who at worst, if he fails, at least fails while daring greatly."—Theodore Roosevelt

Every day we experience the uncertainty, risks, and emotional exposure that define what it means to be vulnerable or to dare greatly. Based on twelve years of pioneering research, Dr. Brené Brown dispels the cultural myth that vulnerability is weakness and argues that it is, in truth, our most accurate measure of courage.

Brown explains how vulnerability is both the core of difficult emotions like fear, grief, and disappointment, and the birthplace of love, belonging, joy, empathy, innovation, and creativity. She writes: "When we shut ourselves off from vulnerability, we distance ourselves from the experiences that bring purpose and meaning to our lives."

Daring Greatly is not about winning or losing. It's about courage. In a world where "never enough" dominates and feeling afraid has become second nature, vulnerability is subversive. Uncomfortable. It's even a little dangerous at times. And, without question, putting ourselves out there means there's a far greater risk of getting criticized or feeling hurt. But when we step back and examine our lives, we will find that nothing is as uncomfortable, dangerous, and hurtful as standing on the outside of our lives looking in and wondering what it would be like if we had the courage to step into the arena—whether it's a new relationship, an important meeting, the creative process, or a difficult family conversation. Daring Greatly is a practice and a powerful new vision for letting ourselves be seen."
Are you looking for more inspiration for personal development to achieve success? View other books we highly recommend here.
For more case studies, ebooks, reports and white papers visit the Walking the Talk resources page here or contact us to learn how we can transform your culture.