Are you looking to shift your company values and be more giving?
Here are 7 of Walking the Talk's recommended books on corporate generosity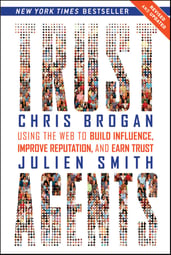 Trust Agents: Using the Web to Build Influence, Improve Reputation & Earn Trust | Chris Brogan & Julien Smith
"Today's online influences are Web natives who trade in trust, reputation, and relationships, using social media to accrue the influence that builds up or brings down businesses online. In Trust Agents, two social media veterans show you how to tap into the power of social networks to build your brand's influence, reputation, and, of course, profits.
In this revised paperback version, learn how businesses are using the latest online social tools to build networks of influence and how you can use those networks to positively impact your business. Combining high-level theory and practical actions, this guide delivers actionable steps and case studies that show how social media can positively impact your business.
New edition features specific first moves for entering social media for small businesses, educators, travel and hospitality enterprises, nonprofit organizations, and corporations.
Authors both have a major presence on the social Web as well as years of online marketing and new media experience.
If you want your business to succeed, don't sit on the sidelines while new markets and channels grow. Instead, use the Web to build trust with your consumers using Trust Agents".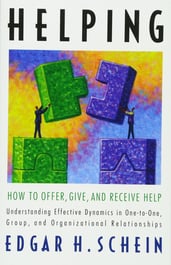 Helping: How to Offer, Give, and Receive Help | Edgar Schein
"Helping is a fundamental human activity, but it can also be a frustrating one. All too often our sincere offers of help are resented, resisted, or refused—and we often react the same way when people try to help us. In this seminal book on the topic—named one of the top five leadership books of 2009 by strategy+business magazine—Edgar Schein analyzes the social and psychological dynamics common to all types of helping relationships, explains why help is often not helpful, and shows what any would-be helpers must do to ensure that their assistance is both welcomed and genuinely useful. Using examples from many types of relationships—doctors and patients, consultants and clients, husbands and wives—Schein offers specific techniques and illuminating examples that help us determine what type of help to offer and how best to offer it in any situation. These techniques not only apply to all kinds of one-on-one helping in personal and professional relationships, teaching, social work, and medicine but also can be usefully applied to teamwork and to organizational leadership".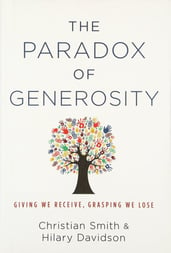 The Paradox of Generosity: Giving We Receive, Grasping We Lose | Christian Smith & Hilary Davidson
"Determining why, when, and to whom people feel compelled to be generous affords invaluable insight into positive and problematic ways of life. Organ donation, volunteering, and the funding of charities can all be illuminated by sociological and psychological perspectives on how American adults conceive of and demonstrate generosity. Focusing not only on financial giving but on the many diverse forms generosity can take, Christian Smith and Hilary Davidson show the deep impact-usually good, sometimes destructive-that giving has on individuals.

The Paradox of Generosity is the first study to make use of the cutting-edge empirical data collected in Smith's groundbreaking, multidisciplinary, five-year Science of Generosity Initiative. It draws on an extensive survey of 2,000 Americans, more than sixty in-depth interviews with individuals across twelve states, and analysis of over 1,000 photographs and other visual materials. This wealth of evidence reveals a consistent link between demonstrating generosity and leading a better life: more generous people are happier, suffer fewer illnesses and injuries, live with a greater sense of purpose, and experience less depression. Smith and Davidson also show, however, that to achieve a better life a person must practice generosity regularly-random acts of kindness are not enough.

Offering a wide range of vividly illustrative case studies, this volume will be a crucial resource for anyone seeking to understand the true impact and meaning of generosity."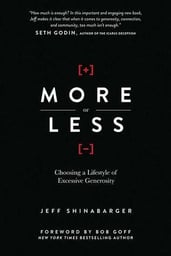 More or Less: Choosing a Lifestyle of Excessive Generosity | Jeff Shinabarger
"In More or Less, Jeff Shinabarger calls readers to create their own social experiments to answer the question, "What is enough?"
It all started with one idea: What would happen if we created a culture in which we gave away whatever was more than enough for us? How would our habits change if we shed the excess of money, clutter, and food in our lives? In More or Less, readers will learn how to draw a line of "enough" in their consumer choices, how to see generosity as a chance to experience freedom in a greedy world, and how to make small changes now that will help others forever. As Shinabarger reminds them, defining "enough" is more than a responsibility—it is an opportunity to give hope. With a foreword by Bob Goff."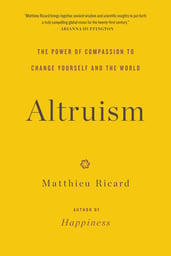 Altruism: The Power of Compassion to Change Yourself and the World | Matthieu Ricard
"The author of the international bestseller Happiness makes a passionate case for altruism--and why we need it now more than ever.

In Happiness, Matthieu Ricard demonstrated that true happiness is not tied to fleeting moments or sensations, but is an enduring state of soul rooted in mindfulness and compassion for others. Now he turns his lens from the personal to the global, with a rousing argument that altruism--genuine concern for the well-being of others--could be the saving grace of the 21st century. It is, he believes, the vital thread that can answer the main challenges of our time: the economy in the short term, life satisfaction in the mid-term, and environment in the long term. Ricard's message has been taken up by major economists and thinkers, including Dennis Snower, Amartya Sen, Joseph Stiglitz, and George Soros.

Matthieu Ricard makes a robust and passionate case for cultivating altruistic love and compassion as the best means for simultaneously benefitting ourselves and our society. It's a fresh outlook on an ardent struggle--and one that just might make the world a better place."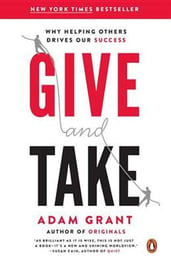 Give and Take: Why Helping Others Drives our Success | Adam Grant
"A groundbreaking look at why our interactions with others hold the key to success, from the bestselling author of Originals

For generations, we have focused on the individual drivers of success: passion, hard work, talent, and luck. But in today's dramatically reconfigured world, success is increasingly dependent on how we interact with others. In Give and Take, Adam Grant, an award-winning researcher and Wharton's highest-rated professor, examines the surprising forces that shape why some people rise to the top of the success ladder while others sink to the bottom. Praised by social scientists, business theorists, and corporate leaders, Give and Take opens up an approach to work, interactions, and productivity that is nothing short of revolutionary."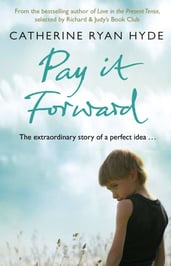 Pay it Forward | Catherine Ryan Hyde
"It all started with the social studies teacher's extra-credit project: Think of an idea for world change, and put it into action.
Whilst this proved a little ambitious for most of his classmates, twelve-year-old Trevor thought he would start by doing something good for three people. But instead of paying him back, he would ask them to "pay it forward" by doing a favour for three more people. If it all went to plan, Trevor thought, it would be the start of a long chain of human kindness...
Sound unlikely to you? Well a lot of other people had their doubts too - Trevor's teacher, his classmates, his mother, in fact everyone in his small California town. It could never really work. . . could it?"