They say culture eats strategy for breakfast. This book provides a practical, do-able approach to culture transformation, giving you the essential insights required to effectively design, implement, measure and manage the culture you need to achieve your business targets.Thursday 24th September 2015 sees the relaunch of the corporate classic, 'Walking the Talk, Building a Culture for Success'. Updated by popular demand, this revised edition unites the same pragmatic approach to culture design and management with the latest thinking on what is needed within your organisation to achieve cultural transformation and business success.
10 years ago, when the original book was launched, culture was a rarely discussed corporate issue. 10 years on, and whilst industry now talks culture, few organisations really 'get' culture. This book cuts through the hype and confusion, making the concept of culture tangible and showing how, by focusing on creating new corporate behaviours and habits, you can genuinely transform your organisation.
Built upon author and CEO of Walking the Talk, Carolyn Taylor's 30 years of culture consulting experience, 'Walking the Talk, Building a Culture for Success' brings forward new ideas as to the core qualities needed to lead change: openness, responsibility and principled. Carolyn also shows you how to achieve a behavioural tipping point within your company, and how it may be closer than you think. Also included is an update of Walking the Talk's renowned organisational culture archetypes which reflect a growing market interest in corporate responsibility.
Rich in anecdotes, case studies and insights, this book will give you the confidence and practical know-how to go forth and build a culture of success in your own organisation.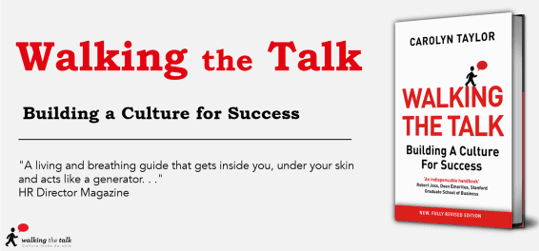 "An indispensable handbook" (Robert Joss, Dean Emeritus, Stanford Graduate School of Business)
"Carolyn's guidance on culture has served me well over many years, with excellent results, and this book captures the essence of her approach extremely well.I recommend the book to all who want a practical approach to improving their culture. The chapter on mergers & acquisitions has been particularly valuable for my Executive Team." (Marc Allera, Chief Commercial Officer, EE)
"The people and culture of an organisation are truly the most critical assets; they also cannot be easily replicated, if at all. This book provides the guidelines to allow executives to manage their culture more actively, providing practical explanations of how culture works and what can be done to accelerate change." (Laura McKeaveney, Global Head of HR, Novartis Pharma)
"Packed with energy and enthusiasm and a 'can-do' attitude, Walking the Talk transforms the dream of change into an everyday reality. A must-read for any manager embarking on the journey of cultural change." (Professor Lynda Gratton, London Business School)
For more case studies, ebooks, reports and white papers visit the
Walking the Talk resources page here
or
contact us to learn how we can transform your culture.