When many of us first entered the workforce, we believed that who we were at work should be different and kept separate from who we were at home. This was, after all, a prevailing paradigm in 20th century work practices. But artificially separating our identities in this way eventually led to increased tension, stress, and the introduction of work-life balance programs. Collectively, we gradually became aware that one couldn't simply leave his or her mind and heart at the office as if it were a company laptop, and vice versa. We have now come to understand – largely through trial and error – that our private or personal lives naturally intertwine with and influence our work lives.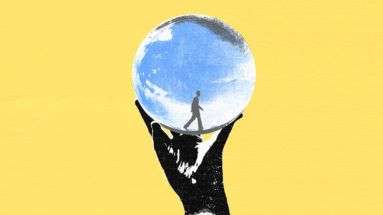 Being psychologically minded, I refer to such shifts as "shifts in awareness." That is, we gradually become aware of a sometimes subtle, but always true, aspect of our working lives that was not known before. A similar awareness shift occurred with the emergence of branding, by which companies realised that the image they portrayed to the external world had enormous indirect influence on their bottom lines. According to current thought and the findings of our new research study, people seem to be undergoing another shift in awareness – but this time, it's with the phenomenon of organisational culture.
During the past spring, we at Walking the Talk conducted an exploratory piece of research in partnership with Stamford Associates, a London-based leading independent investment consultant. The study investigated the level of awareness and importance of organisational culture among investment professionals in various countries via surveys and interviews. Our initial hunch was that, if organisational culture was, in fact, truly an important and valuable company asset, then we should be able to observe a certain level of awareness and appreciation for it among the people whose very careers depend on accurately determining a company's value and future outlook. In other words, if understanding organisational culture were in anyone's best interest, it would likely be in the best interest of investors.
The study's findings confirmed this initial hunch.
Among the 88 survey respondents made up of portfolio managers, buy-side analysts, and many senior and C-level executives, 94% felt that organisational culture had some degree of importance in their investment decisions. A whopping 74% scored it at the higher end of that 5-point scale, as either "Quite important" or "Very important". When asked whether they had personally witnessed a company's value diminish or increase as a result of its organisational culture, 66% of respondents indicated that they had. Unsurprisingly, about one-third of respondents reported that culture influences their buy and/or sell decisions to "a great extent." That organisational culture played a significant role in our respondents' investment decisions was unequivocal. As one senior-level interviewee stated, "Organisational culture is a background consideration in, you know, all investment decisions."
And yet, while confirming one's hypothesis can be exciting, I was more surprised by the range of answers given to the question of familiarity. The fact that nearly 40% admitted to being "not at all," "a little," or "moderately" familiar with organisational culture was, for me, indicative of a shift in awareness of the sort described earlier. As is true with most complex subjects, the depth of understanding people have about culture varies greatly. Therefore, the question of how familiar one is with culture must naturally and necessarily precede the question of how important culture is believed to be. When business thinkers and analysts write about culture, they often launch directly into explorations of importance without considering that even some of their most senior and experienced readers may be incapable of making any meaningful sense of the phenomenon or its implications. This is a common yet non-trivial oversight that was supported by our correlation results.
A strong, linear, and significant statistical correlation between how familiar one was with culture and how important he or she deemed it to be was also observed (r = .49; p < .01). Putting it more plainly, culture is deemed more important the more one knows about it. This is a finding that may seem obvious upon hearing it (as is frequently the case with published psychological insights), but it is also one that is easily forgotten or overlooked. It also belies the fact that organisational culture is currently undergoing a process of emergence in corporate consciousness, and, as one highly senior interviewee put it, "Ten years ago, if you were talking to people about culture, they may not have had as refined thoughts about it." As we wake up to culture, its significance increases.
So, in closing, culture is important and influential for both internal and external stakeholders – our study's results attest to that. But we will not fully understand the significance of organisational culture (in our own or others' organisations) without being properly educated about it first.
For more case studies, ebooks, reports and white papers visit the
Walking the Talk resources page here
or
contact us to learn how we can transform your culture.