Do you want to facilitate the development of a healthy culture in your organisation?
If the answer is "yes", then one of the steps you can take right now is to build a solid baseline of data for the current culture. A structured audit will provide you with what you need. Let me talk you through the process.

How do you conduct a culture audit?
There are three critical elements the audit needs to look at:

1. Behaviours
2. Symbols
3. Processes and systems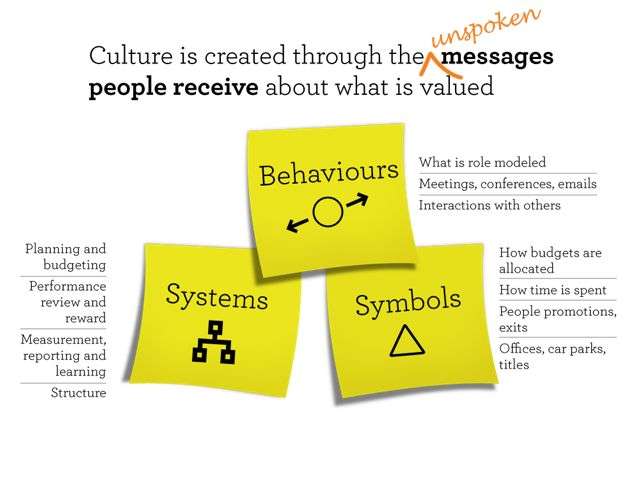 Culture is created from the messages people receive about is valued. Your people receive those messages from three main channels within the organisation: behaviours, symbols and systems. If you want to change the culture, you need to change the messages people receive through these three channels. Transforming culture is about identifying and sending the messages that will tell your people things are going to be different from now on.
The purpose of a culture audit is to identify the messages staff currently receive and then to assess whether those messages are the right ones, or if they are sending contradictory signals. A culture audit aims to create increased levels of insight, so that you can determine the extent to which your current activity will collectively shape the target culture your organisation needs.
1. Clarify your target culture.
The target culture will be used to determine a set of criteria against which the audit will be conducted. A target culture can be described using cultural attributes such as behaviours, beliefs and values. Establish a set of criteria upfront and then use them across the audit.
2. Assess processes and systems.
Major processes and systems will be analysed against this same set of criteria to determine whether or not the messages they are sending are aligned with the target culture. If not, the audit will determine what messages are being sent, how they are interpreted by people, and what outcomes they lead to. The impact of these outcomes will then be assessed in terms of risk level.
Major processes and systems that need to be analysed include: rewards and recognition; performance management; communications; promotion process; people and leadership development; training; remuneration; recruitment; induction; timesheet system; and invoicing.
3. Assess symbols.
Symbols often take the form of finite resources that must be shared throughout the business. Time and money are good examples of symbols. The culture audit will observe where and how the organisation chooses to spend its precious resources, and the messages that are being sent through these choices.
4. Assess behaviours.
Behaviours are the most important element to diagnose in any culture audit. You need to assess not just WHAT people do, but WHY they do it. In other words, it's crucial to understand the belief system that underpins how people behave, because it is that belief system that is your target for change. There are a number of tools on the market designed to help you assess behaviours. At Walking the Talk, we've developed one tool to assess behaviours (our Culture Capability Index survey) and a second for assessing beliefs and values (our focus group DISCOVER methodology).
5. Recommendations.
After assessing all of the messages being sent through behaviours, systems and symbols, the culture audit will clearly identify which elements need to be the target for change. It could be aligning the performance management system with your target culture (systems), or the way meetings are held (symbols), or even how the leadership team are interacting with each other and the rest of the organisation (behaviours).
A culture audit is the first step to action. The baseline of data it creates can then be used to build a roadmap, also called a Culture Plan. Your Plan will list all of the initiatives that need to start, stop, or be altered, in order to align all the messages being sent in your organisation. The result? You're on your way to creating the healthiest culture possible. And, most importantly, one which is in sync with your business' strategy.
I'm happy to answer any questions you may have. Please leave a comment below.

For more case studies, ebooks, reports and white papers visit the
Walking the Talk resources page here
or
contact us to learn how we can transform your culture.