As you know, our focus is on culture and culture change. As with everyone, we have been navigating a big dose of change ourselves as we've accelerated the pace at which we utilise digital processes and ways of interacting to make sure we can fulfil all our commitments to our clients and support them as much as possible during this time. We have also been thinking about how we can support the wider business community on managing some of the people-related challenges and cultural issues we all are facing.
With this in mind, we have compiled a free eBook on leading culture in times of crisis, to help individuals and organisations navigate these unprecedented times.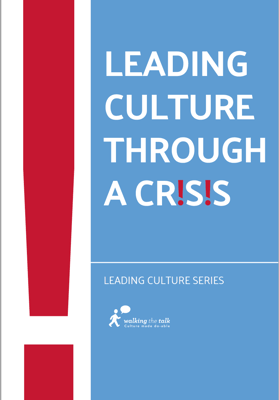 We are all currently learning from the worlds biggest behavioural experiment. Walking the Talk would like to learn more about how you are experiencing the current crisis.

Please take 1 minute to complete our short poll.
For more case studies, ebooks, reports and white papers visit the Walking the Talk resources page here or contact us to learn how we can transform your culture.