On this occasion, it seems only fitting to write a blog in honour of the winning team of the World Cup. To do so, I'll draw from a piece written by Otto Sharmer, one of the world's leading exponents of the power of working deeply with people to change their perspective of the world, and thus their behaviour (what we call the BE-level). Many of the patterns of behaviour we aspire to in our cultures require this type of change from leaders.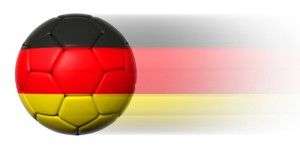 In his article, Sharmer beautifully describes the change that's occurred in the German soccer team over the past ten years. His words summarise the One-Team archetype in Walking the Talk's Culture Management System.

Imagine the difference this type of thinking would have in the culture change of an organisation:

So what is driving the success of the German team? It's a philosophy that requires all players to operate from a shared awareness of the evolving whole. Everyone is required to be aware of what's happening everywhere on the field–the changing positions, the emerging spaces among their own team members and their opponents, to keep the ball moving. It's that shared awareness of the evolving whole that allows them to pass the ball faster than the opposing team, at times, can comprehend, or react to. It was the chief reason the Brazil defense collapsed and conceded four goals in six minutes of the semifinal this week.


Responding to that style of soccer cannot be fixed by firing the coach or replacing players. It requires starting at a deeper level: in the quality of our thinking, or our sensing, of our awareness of the whole. Making the transformation–shifting the way we operate from an awareness of the parts to an awareness of the dynamic whole–is the quintessential transformation challenge that we face in all sectors of society today: finance, food, health, education, sustainable business practices, you name it. Over the past several years I have worked in transformation initiatives in all these sectors. And the most important leadership challenge is always the same: the challenge is to change how people think and work together across institutional boundaries from a silo or ego-system awareness to a systemic or eco-system awareness.


They achieved it in the German soccer system: it's an achievable goal. And the results, as we have all seen this past month, are hard to beat.

Carolyn is the CEO of Walking the Talk and author of Walking the Talk: Building a Culture for Success (2005, Random House).
You can follow Carolyn on Twitter @walkingourtalk.