As part of a new series, we'd like to introduce you to our culture experts here at Walking the Talk. We begin with our Quantitative Assessment Manager, Natalia Kavourinou...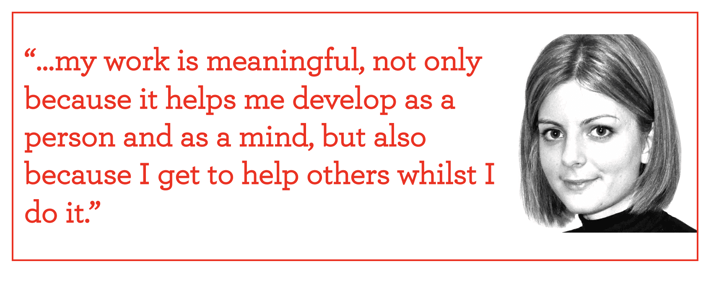 Name: Natalia
Job title: Quantitative Assessment Manager
Location: Amsterdam
What is your role at Walking the Talk?
"My key role is to manage the CCI (Culture Capability Index), which can best be described as an online quantitative culture mapping survey. Alongside this, I am involved in other research and culture assessment projects.
My position at Walking the Talk allows me to put my skills in psychology and research into practice, and also to satisfy my thirst for knowledge, experimentation and progress. I can use my analytical skills to unlock real problems and provide solutions for our clients, which gives me great satisfaction. I think that as human beings we are only given one gift: life. I am also quite conscious that this gift comes with an expiration date, and it is my dream that what I do while I am alive will be meaningful and useful. I think that my work is meaningful, not only because it helps me develop as a person and as a mind, but also because I get to help others whilst I do it."
What's your favourite quote?
'"If you are the smartest person in a room, you are in the wrong room!"'
What book has inspired you the most?
"'A Child Counting the Stars,' written by the Greek author Menelaos Lountemis. The book ultimately is about love and respect. It speaks about the importance of prioritising fairness no matter what, and about the strength and fragility of humanity. It is a book about what it means to be a true human. It is a pity that, as far as I know, that it has not been translated into English."
What's your favourite thing about being a part of the Walking the Talk team?
"Being able to apply my research skills in a setting where I can see immediate results and address real problems."
What's the most valuable piece of advice you've received?
"I don't necessarily believe in advice, as no one perceives life the same way as another person does (unless it is advice on a very practical thing). However, my experience in life has taught me this on a personal level: If you can only be one thing, be honest. If you can be two things, be honest and kind. If you can be three things, then also be as knowledgeable as possible."
What are three traits that define you?
"Ambitious, curious, analytical"
And what's your favourite place to take a walk?
"Now that I no longer live in Greece, then it would definitely be by the beach. If you asked me before, it would be in the forest. Certainly somewhere that's not too busy, and where you can truly relax."
Want to meet more of the Walking the Talk team? Click here to find out about the experts that make up our business.
For more case studies, ebooks, reports and white papers visit the
Walking the Talk resources page here
or
contact us to learn how we can transform your culture.