Read this week's Culture Change blog to discover why there is no excuse for blaming a poor culture on fast growth, the three foundations for a culture of well-being, and much more from the world of organisational culture...
Walking our Talk: Introducing our culture experts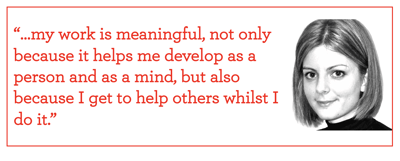 As part of a new series, we'd like to introduce you to our culture experts here at Walking the Talk. We begin with our Quantitative Assessment Manager, Natalia Kavourinou...
Richard Branson: "Clients do not come first. Employees come first."
Richard Branson's corporate philosophy that "People are our greatest asset," was not just made to impress the workforce. He is of the opinion that employees should be given top-priority. And thus, he has created a non-hierarchical, egalitarian, family-like culture in all of companies, an environment in which people like to work and coming to work.
Fast Growth is No Excuse For a Flawed Corporate Culture
Had Uber focused on fostering a strong corporate culture that values compliance, ranking it as high on company leaders' list of priorities as disrupting the transportation market and growing at breakneck speed, it likely wouldn't have found itself in the vulnerable position that it has.
3 Foundations To A Culture Of Well-Being At Marriott
World's largest hotel chain Marriott strives to have effective programs and initiatives for its employees around the world, but these programs aren't what drives the culture. Instead, the idea of well-being and employee engagement takes on a holistic approach that is based on three core principles. These principles can be applied to companies across industry lines.