I am writing this blog sitting on a plane somewhere over the Pacific Ocean, on my way from Sydney to Los Angeles.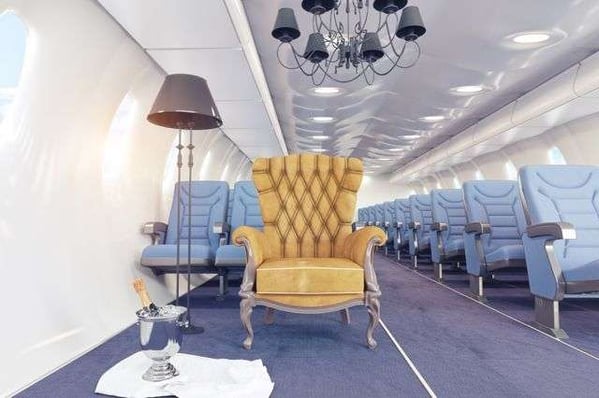 I was blessed with having been able to use my frequent flyer points to upgrade to business class. Because it was a last minute upgrade – the airline wanting to make sure that there was no fully paying passenger ready to fly at the last minute – I was not able to choose my seat. I am sitting on the lower deck of a brand new A380, in the nose of the plane. My seat and my neighbour's seat are the only two located in the central part of the nose, everyone else is sitting to the sides.
Now here's the catch: because there are no seats in front of us, the airline has come up with the idea of creating a flat space looking a little like a table, under which we can tuck our feet when lying down. The rest of the time we are just looking at it. What is not so cool is that in this "table" the crew have found a wonderful work space, which they use at will: it was covered with piles of magazines when I arrived, piles of pyjamas and toiletries a little later, followed by piles of empty plastic bags which contained the same pyjamas, and from time to time, the odd tray, a bit of paper work or a glass or two. It is not exactly pleasant to look at. And to make things worse, we get the added bonus of flight attendants fussing with whatever sits on that space and constantly pacing at our feet (without mentioning other customers walking around the "table").
As a customer, I cannot help but reflect that whoever designed this space did not try to put themselves in my shoes – or maybe they just don't fly? The space in question does not make for a great customer experience. On the other hand it is clear that the airline is making a big effort of trying to focus on their customers and making them feel special. I have noticed that they now systematically try to call me by my name (Bless them, my last name is unpronounceable when the hyphen is not there as is the case on boarding passes). This makes a big difference and represents a commendable effort at building a relationship with the customer, which is nothing else but customer centricity at its best. The problem with the "table" I am talking about is that it makes the customer experience inconsistent, and if I did feel special getting on the plane, I don't feel special right now, looking at yet another flight attendant's bottom fussing with the "table" right in front of me.

My point is that real customer-centricity is very much about consistency.
Consistency across the same experience, which means that I should be called by my name every time I get on a plane and not 70% of the time (when the crew are clearly not bothered). If the airline had truly reached customer-centricity, the person who designed (or agreed to design) the space in front of me would have designed a different one, because he or she would have tried to imagine what I would feel like sitting there. Which also means that they would have needed to understand how their colleagues (the flight attendants) work, and the fact that they would consider this space as exciting work material – but just not great customer material.
What about you? How consistent is the customer experience your company provides? And how confident are you that everyone in your organisation is thinking of how the customer is feeling right now?
As for me, I'll have another glass of red, please.
Jerome Parisse-Brassens is the Regional Manager for Walking the Talk in Australasia.
You can follow Jerome on Twitter @Jeromeparisse
Or connect with him on LinkedIn